Iron Ore Company of Canada
Home
Our commitment
Environmental
Air Quality
Our Commitment to Air Quality
Overview
In producing iron ore pellets and concentrate, dust and other substances are released within our facility boundary and, to a lesser extent, the ambient air in our community. IOC is committed to doing our part with respect to our contribution to air quality in Labrador West.
IOC has a multi-faceted approach to understanding and mitigating community dust issues that includes a tailings management plan, site dust reduction initiatives, as well as an Ambient Air Quality Monitoring Network that monitors air quality in Labrador City.
Data from the air quality monitoring network that was analyzed by an independent environmental and health science consultant, Intrinsik, determined the air quality in Labrador West poses a low health risk to residents and is similar to other small cities or towns in the Atlantic region, like Corner Brook, Fredericton, Moncton and St. John's.
The large dust particles that can be seen in town represent an important soiling issue to the community and to IOC, but do not represent a health issue. We must recognize that living in a mining town will likely always present dust challenges due to a number of factors including wind direction/speed and proximity of the mine to the community; however, IOC is committed to reducing our contribution to this dust as much as possible.
Air Quality Improvement Project (AQIP)
The federal government is proposing new emission limits for all iron ore pelletizing facilities in Canada that we will need to meet. In response, IOC launched a comprehensive study on air emission and abatement options called the Air Quality Improvement Project (AQIP).
IOC has an agreement in principle with the federal government and is near completion with the provincial government on commitments required to be in full compliance to the provincial air pollution regulations.
Community Air Monitoring Network
Since 1998, IOC has been operating a network of provincially regulated air quality monitoring stations in Labrador City. This network was set up in consultation with the province, and assists in understanding air quality within the community.
The community air monitoring stations measure different substances in the air, which include emissions from the facility, as well as from other sources surrounding each monitor including other nearby mining companies' operations, tailings sites, cars and trucks on the road, woodstoves, and other common sources. Measurements of substances at these air monitors have typically met air quality standards.
IOC's community air monitoring network was upgraded in January 2011. This new community air network currently has five stations in Labrador City. Site selection of the new monitoring stations was done in consultation with provincial and municipal authorities. Measured substances include large dust particles (TPM or TSP), fine dust particles (PM2.5), and gases (sulphur dioxide, or SO2, and nitrogen dioxide, or NO2), as well as wind data (wind speed and direction). Three of these stations monitor NO2, SO2, PM2.5 and TPM on a continuous basis.
IOC provides regular updates to the Town of Labrador City on the data from the air monitoring stations.
It is important to note that the ambient air monitoring stations only measure air quality in the community, not in the workplace. There is a separate process for monitoring workplace exposures. Workplace dust monitoring is coordinated by IOC's Health and Safety team and our monitoring systems go beyond provincial occupational health and safety requirements.
IOC's Air Monitoring Network data is available to the public (near real-time) by going to the following links:
Tailings Management
IOC has an active tailings area which it manages under its Tailings Management Plan. This Tailings Management Plan aligns with IOC's Environmental Management System, which is certified to ISO 14001, and regularly audited against Rio Tinto's E8 Mineral Waste Environmental Standard and the Mining Association of Canada's Tailings Management Protocol.
In 2013, a geotechnical assessment of the tailings area was conducted by an independent qualified engineering specialist in accordance with Rio Tinto's E8 Standard. This assessment, along with the tailings lease line monitoring program, allows us to continually improve and reduce the risks associated with tailings operations.
IOC has an on-going tailings rehabilitation program and in 2013 we added 30 hectares of rehabilitated tailings to our ongoing re-vegetation program. Over 600 hectares have been rehabilitated to date. This program, while ultimately developed for progressive rehabilitation under IOC's Closure Plan, continues to improve the wetland, riparian and upland areas which have attracted a wide variety of wildlife.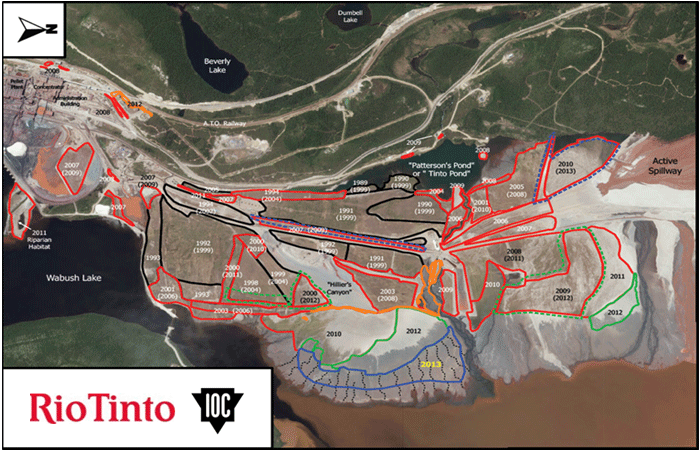 Presently, our annual vegetation program is underway in the tailings area as part of our continued commitment to reduce dust and minimize our environmental footprint and we have plans to rehabilitate an additional 26 hectares this year. The Beach Head area is the most active zone which is over 3km away from the plants and is the zone with the most active lift off. In addition we use water trucks and calcium on dry days to reduce lift off from the roads within the tailings area.

As an added measure, we are also relocating the reclaims tailings from Beaver Bay to our tailings disposal area (further away from town) which will reduce lift off in the Beaver Bay Area. A contractor began this process this week.
In addition, we have other site wide dust management measures which include:
Mining Operations:
continuous watering of the roads used by haul trucks and other mining equipment
water suppression systems in place on the drills
water spray systems in place on the rock crusher
hydro seeding of various areas within Mining Operations to reduce dust and lift-off
Processing Operations:
as mentioned above, the annual rehabilitation on our tailings is currently underway
watering of the roads between Processing Operations and our mine using 3 water trucks and calcium
dust suppression system at the load-out
Air Quality in Labrador West
As part of the overall evaluation of air emissions, IOC also commissioned Intrinsik Environmental Sciences Inc. (Intrinsik) to conduct an assessment of the potential human health risks associated with exposure to different air contaminants. These assessments used measured data from the existing ambient air monitoring stations, as well as air dispersion predictions of ground level air concentrations resulting from current operations. Their studies have undergone a peer review by other independent experts.
These peer reviewed studies concluded that long term exposures to these substances are unlikely to affect people's health. Typically, the concentrations of these substances measured in the air in Labrador City were similar to those present in many communities in the Atlantic region, such as St. John's, Corner Brook, Moncton and Fredericton. There had been some brief, infrequent, elevated concentrations of sulphur dioxide and nitrogen dioxide at monitors. The science team considers risks associated with these infrequent excursions to be negligible for the general public and low for those with respiratory sensitivities, such as asthmatics.
The peer reviewed studies have also concluded that while there have been large dust particle exceedances over the years, these represent a soiling and nuisance issue that is important to the community and IOC, but do not represent a health issue.
Air Quality Index for Labrador West
As a result of IOC's Air Monitoring Network, there is an Air Quality Health Index (AQHI) available on Environment Canada's weather network for Labrador City. IOC is the first industry in Canada to participate in contributing to the AQHI.
http://weather.gc.ca/airquality/pages/nlaq-005_e.html
Feedback

If you have questions or concerns, or would like to learn more about our Air Quality Improvement Project, contact our IOC feedback line at 944-8400 ext 8677 or email us at IOCfeedback@ironore.ca
Air Quality Update - June 2015