Iron Ore Company of Canada
Home
Our commitment
Our commitment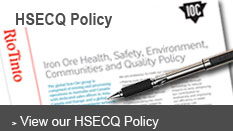 IOC's sustainable development commitment is founded on our 50+ years of experience in operating a world-class, socially and environmentally responsible operation.


Our people are our most valuable resource - so their health, safety and wellness is our number one business priority.


The communities of Labrador West and Sept-Îles, our Aboriginal partners, and the three levels of government are also core to IOC's focus on building relationships.
Our approach to sustainable development is guided by Rio Tinto's global code of business conduct – The Way We Work, which addresses the many aspects of corporate social responsibility and sustainable development.

In 2012, IOC adopted the Health, Safety, Environment, Communities and Quality (HSECQ) Policy wich establishes a clear set of values and objectives for the effective management of Health, Safety, Environment, Community and Quality performance.