Iron Ore Company of Canada
Home
Our commitment
Social
Our social commitment
Our people are our most valuable resource - so their health, safety and wellness is our number one business priority.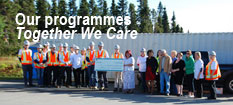 The communities of Labrador West and Sept-Îles, our Aboriginal partners, and the three levels of government are also core to IOC's focus on building relationships.


The Health, Safety, Environment and Communities (HSEC) Policy provides a clear set of values and objectives for the effective management of Health, Safety, Environment and Community performance.