Iron Ore Company of Canada
Home
Careers
Recruiting
Student hiring
Student hiring
IOC hires a pre-determined number of post-secondary students in its Labrador City operations. Students are assigned to various job placements project wide including operations, maintenance and administration. Students also receive the required training to fully perform the functions of their assigned job placement.

Important: To be eligible to work at IOC, you must be 18 years old or older by April 1st and have your High School Diploma.
The successful applicants will be students who are currently attending and returning to a full-time program at a post-secondary educational institution. Preference will be given to IOC dependants.
Applications must be completed and submitted no later than April 24th, 2017.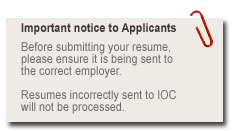 Students must also complete the Application Form and the Student Verification Form. This form must be stamped by the Registrar's Office.
Please apply via email with a resume, application form, a stamped and completed copy of the Student Verification Form, a scanned copy (front and back) of your Driver's License and students will be required to submit a code of conduct. Please return all documents via email to studentrecruitment@ironore.ca.
The original Student Verification form must follow by mail to the below address:
Student Employment Program
Human Resources Department
Iron Ore Company of Canada
P.O. Box 1000
Labrador City, NL A2V 2V6
Students failing to provide both forms (application form and signed/stamped student verification form) will not be eligible for summer employment.
Requirements
Students must be currently attending and returning to a full-time program at a post-secondary educational institution
Students must be available to work the entire summer period from the selected start date on the Student Verification Form until August 25th
Students that are being considered for safety sensitive roles must successfully complete the substance abuse testing as well as fitness testing requirements for summer employment
General Information
Students will be paid a rate of $32.49 an hour
Interested students will be responsible for their own transportation to and from Labrador City as well as their own accommodations
Students must indicate which position they wish to be considered for
Deadline for 2017 Summer applications is April 24th , 2017.