Iron Ore Company of Canada
Home
The company
The company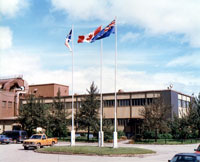 IOC is a leading Canadian producer of iron ore pellets and concentrate serving customers worldwide. The Company operates a mine, concentrator and a pelletizing plant in Labrador City, Newfoundland and Labrador, as well as port facilities located in Sept-Îles, in the province of Quebec. It also operates a 418-kilometre railroad that links the mine to the port.


IOC currently employs more than 2,500 employees and has the capacity to produce approximately 22 million tons of iron ore concentrate per year.

IOC's major shareholder is the international mining group Rio Tinto, which has activities in more than 40 countries throughout the world.